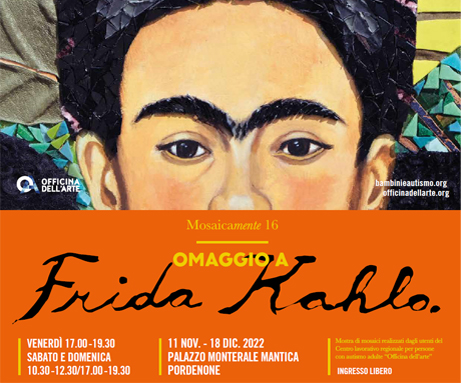 Mosaicamente 16: Tribute to Frida Kahlo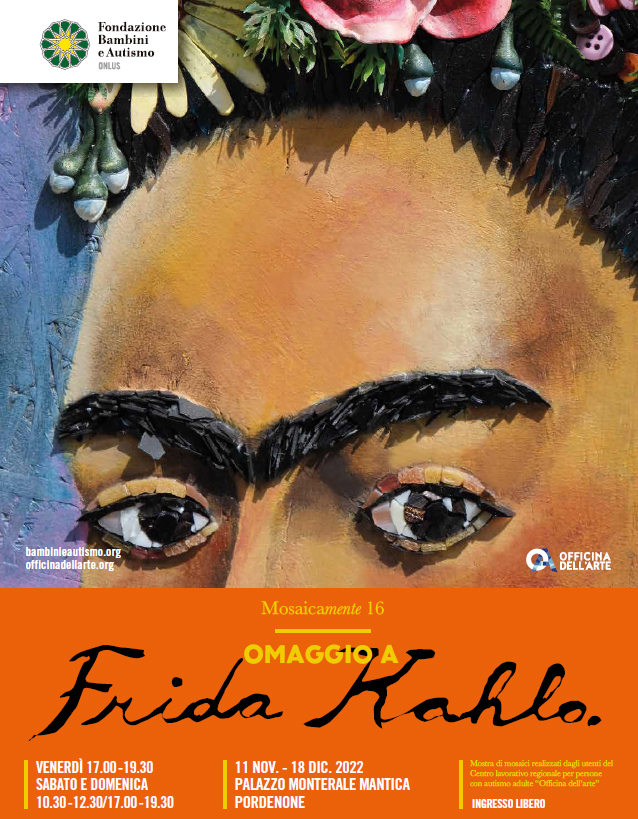 11 NOVEMBER – 18 DECEMBER 2022
Palazzo Montereale Mantica – Corso Vittorio Emanuele II Pordenone
INAUGURATION FRIDAY' 11 NOVEMBER AT 6 pm
Openings:  
Friday 17.00-19.30
Saturday and Sunday 10.30-12.30/17.00-19.30
FREE ENTRANCE
For more information
Fondazione Bambini e Autismo Onlus
Tel. 0434 551463 – direzione@officinadellarte.org
The sixteenth edition of Mosaicamente is dedicated to a special woman who has become a modern icon thanks to her works that continue to arouse great attention and emotion especially in the Western world.
Worn out by life and many physical hardships, Frida Kahlo, with her extraordinary artistic skills and a passionate personality unwilling to respect artistic and social rules, was able to pour out her pain in her works, painting a surreal world accompanied by cultural references of his land: Mexico.
This troubled but full of charm woman has aroused interest in the artists of Officina dell'arte, who tried to create mosaics inspired by the details of her works.
Then this year-long research work has given life to this exhibition.
The mosaics that have been created give a representation of the artist's work through themes and subjects she has repeatedly investigated: portraits, self-portraits, still life and urban landscapes. In addition, the exhibition also hosts some panels made by Valerio Todesco who drew, in a journey through images, the troubled life of the artist.
We entrust to all those who want to visit the exhibition the judgment on what our "special artists" have produce in the wake of Frida Kahlo's work, thinking with images.